Dinah Shore
Gene Autrey
The Dinning Sisters
Ray Conniff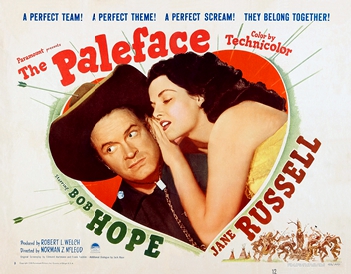 BUTTONS AND BOWS…Another assignment on their list was a song for Bob Hope to sing to Jane Russell in "The Paleface". In the scene in question, Hope was driving a covered wagon, and, when he turned around to sing to Jane in the back of the wagon, his horses took a wrong turn and Bob, Jane and all the wagons behind them ended up in an Indian ambush. This was the only reason for the song. They wrote a song called "Skookum", which is an actual Indian word meaning (loosely) "OK". But much to their consternation, director Norman McLeod absolutely refused to use the song, arguing that the Indians were supposed to appear as a menace, a threat, and a comedy song about Indians would botch the scene. Jay and Ray argued that this was a comedy and a big star like Hope was invulnerable. McLeod wouldn't budge.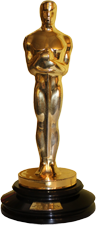 Grumbling all the way back to their office, they set back to work and came up with BUTTONS AND BOWS. The song garnered them their first Oscar and, considering that if Norman McLeod had gone with "Skookum", BUTTONS AND BOWS would never have been written, the guys re-evaluated their idea of McLeod's musical taste.
Dinah Shore, very close to giving birth to her first child, recorded the song at three minutes 'til midnight with the orchestra ad-libbing behind her. At midnight, a planned musician's strike halted all orchestra recordings for a year. This was the last song recorded before the deadline.
Jay Livingston & Ray Evans
COPYRIGHT 1948
Famous Music Corp. (ASCAP)
International Copyright Secured
All Rights Reserved
RECORDING HISTORY
Dinah Shore with the Happy Valley Boys, CBS Special Products AGK 46849.
Bob Hope with The Clark Sisters, Capitol Records 15292, Bob Hope Thanks For The Memory, Sanctuary Records Group Ltd. CD AJA 5493.
"Heinie's and Moe's" Bob Hope, Bing Crosby and Doris Day, Bob Hope radio program December 7, 1948,
Bob Hope, Thanks For The Memory, Sanctuary Records Group Ltd., CD AJA 5493.
Gene Autry, Songs Of The West, Vol. Three, Rhino R2 71683.
The Dinning Sisters, The Groups Sing From The Big Band Era and Beyond, Jasmine Records JASCD 393.
The Rice Brothers, The Rice Brothers 2, Rounder Records.
Arthur Fiedler and the Boston Pops Orchestra, American Classics, BMG Direct DMC2-1331.
Hugo Montenengro, Great Songs From Motion Pictures Vol.3 1945-1960, Time Records.
Gordon Jenkins, Great Movie Themes of the 30's, 40's, & 50's. VeeJay Records COL-CD-7268.
Evelyn Knight, The Best of Evelyn Knight, MCA Special Products MSD-37242.
Betty Garrett, Betty Garrett – Star of Stage and Screen, Sepia Records Limited, Sepia 1038.
David Grisman & Hal Blaine, Dawg Duos, Acoustic Disc.
Jay Livingston, 2002 Concord Records, Inc. # FCD-3101-2 Livingston & Evans Songbook.
Ray Conniff, The Ultimate Collection, Columbia Records 5024632000.
Jon Weber, Plays The Songs of Livingston & Evans, MD-1111.
Sandler & Young, Once More With Feeling, Ralton Productions.
Jay Livingston, demonstration recording.
Professor Feedlebomp, from the Spike Jones CBS Radio Show.
Jane Russell, from the 1948 Academy Awards Show.
Frank Sinatra, from the radio show YOUR HIT PARADE.
Joanne with the Fred Waring Orchestra. From the Fred Waring Radio Show.
Tommy Bruce, Ain't Misbehavin', Charly Records.
And many others……….
FILM HISTORY
THE PALEFACE, (Paramount Pictures, 1948 Bob Hope and Jane Russell.) Academy Award Winner Best Song Written For A Motion Picture, 1948.
L  I  S  T  E  N    T  O    M  O  R  E    V  E  R  S  I  O  N  S
Songs Will Play In New Window/Tab. Simply Close That Window/Tab When Done Listening To Return To This Page