Frank Sinatra
The Anita Kerr Quartet
Sarah Vaughan
Jack Jones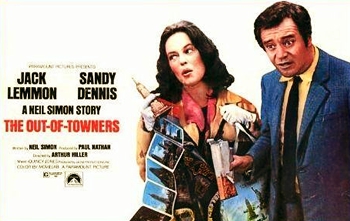 Dear Heart was introduced in The Out-of-Towners, a 1970 comedy film written by Neil Simon, directed by Arthur Hiller, and starring Jack Lemmon and Sandy Dennis. It was released by Paramount Pictures on May 28, 1970.
Much of the film's humor is derived from the interaction between George, the manic husband desperately collecting the names of everyone he encounters with plans to sue every last one of them, and Gwen, the mousy wife who accepts each new indignity with quiet resignation.
A number of comic actors, including Anne Meara, Sandy Baron, Ann Prentiss, Paul Dooley, and Anthony Holland, were cast in small supporting roles.
Jay Livingston, Ray Evans & Henry Mancini
COPYRIGHT 1964
Jay Livingston Music,Inc. (ASCAP)
St. Angelo Music (ASCAP)
Northridge Music Company (ASCAP)
Copyright Renewed
RECORDING HISTORY
The Orchestra and Chorus of Henry Mancini, DEAR HEART AND OTHER SONGS ABOUT LOVE, RCA Victor Records # LSP-2990, (instrumental with chorus)
Andy Williams, DEAR HEART, Columbia Records # CL 2338, (male vocal)
Joannie Sommers with Laurindo Almeida, SOFTLY, THE BRAZILLIAN SOUND, Warner Bros. Records # W1575 (female vocal)
The Anita Kerr Quartet, WE DIG MANCINI, RCA-Victor Records # LSP-3428, Produced by Chet Atkins, (vocal quartet)
Sarah Vaughan, SINGS THE MANCINI SONGBOOK, Mercury Records # SR61009/ MG21009 (female vocal)
Jack Jones, THE BEST OF JACK JONES, MCA Records # MCAC2-4115
FILM HISTORY
From the Warner Bros. Picture THE OUT-OF-TOWNERS
L  I  S  T  E  N    T  O    M  O  R  E    V  E  R  S  I  O  N  S
Songs Will Play In New Window/Tab. Simply Close That Window/Tab When Done Listening To Return To This Page