Bing Crosby
The Ray Conniff Singers
Willie Nelson
Bobby Darin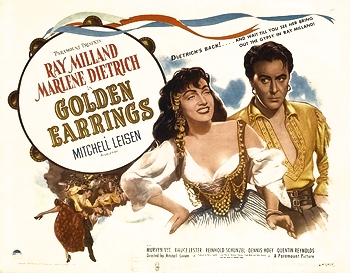 Golden Earrings is a 1947 romantic spy film made by Paramount Pictures and starring Ray Milland and Marlene Dietrich. It was directed by Mitchell Leisen and produced by Harry Tugend from a screenplay by Frank Butler, Helen Deutsch and Abraham Polonsky, based on a novel by Jolán Földes. The music score was by Victor Young and the cinematography by Daniel L. Fapp.
On the eve of World War II (1939) English officer Ralph Denistoun is in Nazi Germany on an espionage mission to recover a poison gas formula from Prof. Krosigk. He is helped by Lydia and her band of gypsies. Naturally romance develops along the way.
The film's haunting song, "Golden Earrings", sung in the movie by Murvyn Vye, was a hit recording in 1947-48 by Peggy Lee.
Jay Livingston, Ray Evans & Victor Young
COPYRIGHT 1947
Paramount Music Corp. (ASCAP)
International Copyright Secured
All Rights Reserved
RECORDING HISTORY
Peggy Lee, Collector Series Vol. 1 The Early Years, Capitol CDP 7 93195 2.
Dinah Shore, The Great American Composers, Jay Livingston & Ray Evans, Columbia House 2C2 8651 / C21 8651.
Bobby Darin, Winners, Atlantic Records.
The Ray Conniff Singers, Somebody Loves Me, Sony Music Entertainment.
Willie Nelson, Without A Song, Sony Music Entertainment.
Jon Weber, Plays The Songs Of Livingston & Evans, MD-1111.
Frank Sinatra, from the radio show YOUR HIT PARADE.
The Fred Waring Orchestra, from the Fred Waring Radio Show.
FILM HISTORY
GOLDEN EARRINGS, (Paramount Pictures 1947, Marlene Dietrich and Ray Milland)
L  I  S  T  E  N    T  O    M  O  R  E    V  E  R  S  I  O  N  S
Songs Will Play In New Window/Tab. Simply Close That Window/Tab When Done Listening To Return To This Page