Ed Ames
Henry Mancini
Andre Kostelanetz
Matt Munro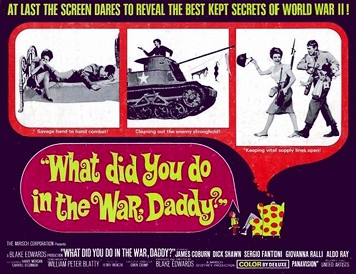 In The Arms Of Love was introduced in a film entitled What Did You Do In The War, Daddy? In the film, a wartime outfit of U.S. soldiers is assigned to capture a village in Sicily, but upon arrival, they discover that the town has been expecting them and will willingly turn itself over to the Americans' rule, provided they are permitted to complete a soccer match and a wine festival.
Romance and frivolity ensue, as a reluctant, by-the-book Capt. Cash is persuaded by easy-going Lt. Christian to go along with the locals' wishes. Mistaking an orgy for an attack, Germans come to the Italians' aide, but the Americans accidentally end up conquering all.
Jay Livingston, Ray Evans & Henry Mancini
COPYRIGHT 1968
Jay Livingston Music,Inc. (ASCAP)
St. Angelo Music (ASCAP)
Northridge Music Company (ASCAP)
Copyright Renewed
RECORDING HISTORY
Andy Williams, IN THE ARMS OF LOVE, Columbia Records # CL 2533, # HCO 87962 (male vocal)
Al Martino, THIS LOVE FOR YOU, Capitol Records # ST 2654 (male vocal)
Ed Ames, MY CUP RUNNETH OVER, RCA Victor Records # LSP-3774 (male vocal)
Henry Mancini, The Days Of Wine And Roses, RCA Records # 66603-2 (chorus)
Hal Frazier, Produced by Jimmy Bowen, Reprise Records single # 0498
FILM HISTORY
From the United Artists Picture WHAT DID YOU DO IN THE WAR, DADDY?
L  I  S  T  E  N    T  O    M  O  R  E    V  E  R  S  I  O  N  S
Songs Will Play In New Window/Tab. Simply Close That Window/Tab When Done Listening To Return To This Page