Henry Mancini
The Anita Kerr Quartet
Marlene Ver Planck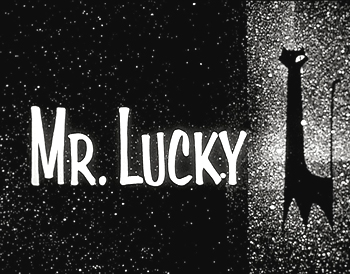 MR. LUCKY is a CBS adventure/drama television series that aired from October 24, 1959, to June 18, 1960, with repeats until September 3. Blake Edwards developed the program as a retooling of his Willie Dante character from Four Star Playhouse, in which the role was played by studio boss Dick Powell. In the 1960–1961 television season, Howard Duff assumed the role of Willie Dante in the NBC adventure/drama series Dante. John Vivyan played "Lucky", not "Dante".
Mr. Edwards directed and co-wrote the first episode of Mr. Lucky, and the credits of the first eighteen episodes included the text, "Entire production supervised by Blake Edwards." Jack Arnold (director of Creature from the Black Lagoon, The Incredible Shrinking Man, and It Came from Outer Space) produced the show and directed fifteen of the thirty-four episodes.
Henry Mancini's smooth theme music for the show (co-written with Jay Livingston and Ray Evans) reached Number 21 in the US singles charts.
Jay Livingston, Ray Evans & Henry Mancini
COPYRIGHT 1960
Jay Livingston Music,Inc. (ASCAP)
St. Angelo Music (ASCAP)
Northridge Music Company (ASCAP)
Copyright Renewed
RECORDING HISTORY
Marlene Ver Planck, A BREATH OF FRESH AIR, Mounted Records # M-108 (female vocal)
The Orchestra and Chorus of Henry Mancini, DEAR HEART AND OTHER SONGS ABOUT LOVE, RCA Victor Records # LPM-2990 (chorus)
Sarah Vaughan, SINGS THE MANCINI SONGBOOK, Mercury Records #SR 61009/MG 21009 (female vocal)
The Anita Kerr Quartet, WE DIG MANCINI, Produced by Chet Atkins, RCA-Victor Records # LSP-3428 (vocal quartet)
TV HISTORY
Theme From the Television Series MR. LUCKY