Dinah Washington

Wynton Marsalis
Cleo Laine

The Roy Hargrove Quintet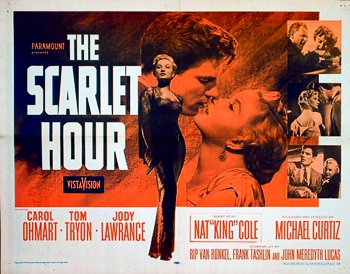 NEVER LET ME GO was written for the 1956 Paramount Pictures film "The Scarlet Hour", starring Carol Ohmart, Tom Tryon, Jody Lawrance and Elaine Stritch, directed by Michael Curtiz.
In this little-known gem of a film noir, a woman and her lover plan her husband's untimely demise. Widely considered to be the last example of a classic film noir film, this production was a relatively bold experiment for a mid-1950's Paramount release, mainly for the way Curtiz used a series of experimental Fujinon lenses which allowed for filming at reduced light levels given their larger than normal apertures.

This was Elaine Stritch's film debut. Another cast member, Tom Tryon, later became a writer and wrote several science fiction, horror and mystery novels of note.
Nat King Cole performs this song in the film during a nightclub scene.
Jay Livingston & Ray Evans
COPYRIGHT 1956
Famous Music Corp. (ASCAP)
International Copyright Secured
All Rights Reserved
RECORDING HISTORY
Nat 'King' Cole, from soundtrack of Paramount Pictures THE SCARLET HOUR.
Carol Ohmart, from soundtrack of Paramount Pictures THE SCARLET HOUR.
Bill Evans, Alone, Verve 833 801-2.
Cleo Laine, Cleo At Carnegie The 10th Anniversary Concert, DRG CDXP 2101.
Dinah Washington, Blue Gardenia, UMG Recordings, Inc.
Nancy Wilson, Ballads, Blues & Big Bands, The Best of Nancy Wilson, Capitol, CDP 7243 8 34886 2 9.
Wynton Marsalis, Standard Time Vol. 3 The Resolution of Romance, Columbia CK 46143.
Shirley Horn, May The Music Never End, UMG Recordings, Inc.
Boz Scaggs, But Beautiful – Jazz Standards Vol.1, Gray Cat Records.
Charlie Watts
Corky Hale, Corky Hale, Lass-Hale Productions, CD 28064.
Roy Hargrove Quintet, With The Tenors of Our Time,
Bobby Hutcherson, The Most Relaxing Jazz Standards In The Universe, Denon Records.
Al Foster and McCoy Tyner
Ahmad Jamal, I Remember Duke, Hoagy and Strayhorn, Telarc International, Inc.
Diane Schur
Elvin Jones
Melissa Manchester, 2002 Concord Records, Inc. # FCD-3101-2 Livingston & Evans Songbook.
Philly Joe Jones and Red Garland
Jon Weber, Plays The Songs of Livingston & Evans, MD-1111.
And many others……….
FILM HISTORY
THE SCARLET HOUR, (Paramount Pictures, 1956 Nat Cole and Carol Ohmart)
L  I  S  T  E  N    T  O    M  O  R  E    V  E  R  S  I  O  N  S
Songs Will Play In New Window/Tab. Simply Close That Window/Tab When Done Listening To Return To This Page