Bing Crosby and Ella Fitzgerald 
Mel Torme 
Barry Manilow 
Elvis Presley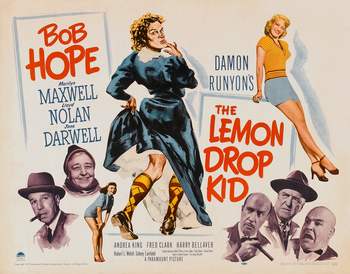 SILVER BELLS has sold well over 160 million records since Jay and Ray first were assigned to write it for Bob Hope and Marilyn Maxwell in 1950 for the Paramount picture "The Lemon-Drop Kid". The picture takes place in New York at Christmas, and the studio wanted a Christmas song. Jay and Ray balked. "It's impossible to write a hit Christmas song", they said." Every year everybody sings the same old Christmas songs, and new ones never make it". Also, they were uneasy because they had an option coming up in their contract, and they hadn't had a hit for awhile. But, as usual, the studio was insistent.

So, with great reluctance, they wrote a song called "Tinkle Bell", about the Santa Clauses and the Salvation Army workers who stand on New York street corners tinkling their bells. But when Jay told his wife, Lynne, that they had written a song called "Tinkle Bell", she asked him, incredulously, "Are you out of your mind? Do you know what the word "tinkle" means to most people"? She went on to explain it's association with a very specific bodily function. Of course, Jay and Ray had never heard it used in that way. "Tinkle" (for "pee") is a woman's term. As Jay said in the act that they used to do, "When I was a boy, I said 'Pee-pee'. Come to think of it, I STILL say 'Pee-pee', only more frequently".

They put aside "Tinkle Bell" and started to write a new song. But they liked the music and melody of "Tinkle Bell", so they just changed "Tinkle" to "Silver", and the money's been pouring in ever since. To give the song added dimension, they wrote the verse and chorus so that they could be sung at the same time, and even added a lyric counterpoint to the chorus.

Bing Crosby made the first record, using all these musical tricks. Jay and Ray think this helped the song get started, besides the fact that it was about the city, while most Christmas songs were about home and hearth. They also purposely put it in three-quarter time, in contrast with most other Christmas songs around.
Jay Livingston & Ray Evans
COPYRIGHT 1951
Paramount Music Corp. (ASCAP)
International Copyright Secured
All Rights Reserved
RECORDING HISTORY
Jay Livingston, Lloyd Nolan & William Frawley practice recording forThe Lemon Drop Kid.
Bob and Dolores Hope, Hope Enterprises, Inc. Hopes For The Holidays # 30002.
Elvis Presley, RCA Records # 62411-4.
Bing Crosby and Ella Fitzgerald, Christmas Duets, Lifestyles, LIF 160008.
The Chipmunks, Christmas With The Chipmunks, Cema Special Markets S21-56718
Garth Brooks, Garth Brooks and The Magic Of Christmas, Capitol Records 7243-5-23550-2-0.
Dean Martin, Christmas With The Rat Pack, Capitol Records 72435-42210-2-6.
Diana Ross & The Supremes, A Motown Christmas, Motown 37463652562.
Kate Smith, The Polar Express Soundtrack From The Motion Picture, Warner Bros. Ent. Inc.
Doris Day, Perry Como and The Ray Charles Singers, Greatest Christmas Songs
Dwight Yoakam, Country Christmas Vol. 1, Reprise Records
Wilson Pickett, Christmas Soul Special, Stax Records
Vince Gill, Breath of Heaven, A Christmas Collection,
The Brady Bunch, Christmas with the Brady Bunch, MCAD-20890.
Wayne Newton, It's The Most Wonderful Time Of The Year, Williams Sonoma Dinner Companion Series, EMI Special Markets.
Kenny Rogers, Christmas In America, Reprise 9 25973-2.
Nancy Wilson, A Nancy Wilson Christmas, MCG Jazz.
Michael Feinstein, 2002 Concord Records, Inc. # FCD-3101-2 Livingston & Evans Songbook.
Jay Livingston, Lloyd Nolan and William Frawley, practice recording for soundtrack of The Lemon Drop Kid.
Mel Torme, Mel Torme Christmas Songs, Telarc Jazz CD-833315.
Martina McBride, White Christmas RCA07863-67842-2.
Mannheim Steamroller, Christmas Extraordinaire, American Gramaphone AG1225-2.
Jon Weber, Jon Weber Plays the Songs of Livingston & Evans, Mood Records MD-1111.
Jim Horn, Warner Bros. PRO-CD-3379
Andy Williams, Columbia House, The Great American Composers 2C2 8651/ C21 8651.
And many others………
L  I  S  T  E  N    T  O    M  O  R  E    V  E  R  S  I  O  N  S
Songs Will Play In New Window/Tab. Simply Close That Window/Tab When Done Listening To Return To This Page