The King Sisters
Betty Hutton
Kelly Clarkson
Deian McBryde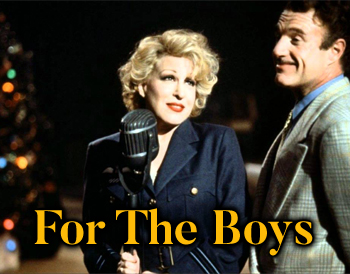 For The Boys is a 1991 film which traces the life of Dixie Leonard, a 1940s actress/singer who teams up with Eddie Sparks, a famous performer, to entertain American troops.
As in The Rose, Midler's first starring role and also a blockbuster quasi-biopic, the film is fiction. However, actress/singer Martha Raye believed that Midler's character was based on many widely known facts about her life and career with the USO and pursued legal action based on that assumption. After a protracted legal engagement, Raye ultimately lost the case. The Caan character was generally believed to be based on Bob Hope.
Jay Livingston Music, Inc. and St. Angelo
Music, U.S.A. & its possessions,
Michael H. Goldsen Music, World
excluding U.S.A. & its possessions. ASCAP
International Copyright Secured
All Rights Reserved
RECORDING HISTORY
Betty Hutton, Great Ladies of Song, Spotlight On Betty Hutton, Capitol CDP 0777 7 89942 2 0.
Bette Midler, FOR THE BOYS, Motion Picture Soundtrack, Atlantic 7 82329-2.
The King Sisters, Swingin' On A Star, Collector's Choice Music, CCM-242.
FILM HISTORY
FOR THE BOYS, Twentieth Century Fox, 1991 (Bette Midler and James Caan)
L  I  S  T  E  N    T  O    M  O  R  E    V  E  R  S  I  O  N  S
Songs Will Play In New Window/Tab. Simply Close That Window/Tab When Done Listening To Return To This Page