Bobby Vinton
Kay Starr
Roger Williams
Marty Robbins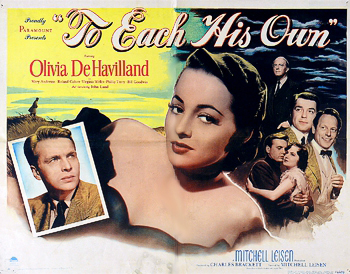 TO EACH HIS OWN (from a John Donne poem by the same name). The studio hated the title, but the producer, Charles Brackett, insisted on it. Victor Young, who wrote the background score, was asked to write a title song to help sell the picture, but he refused, saying the title was a dumb idea based upon a phrase which was unknown at the time. Enter Livingston & Evans. As they said in their And-Then-I-Wrote act, "We were so eager that we would have written COME TO US JESUS IN E-FLAT if they had asked us to".
Considering this assignment another golden opportunity, they did their very best and came up with a song that ended up being the #1 Song of the Year. At one point, for three solid weeks, five of the records on the Billboard Magazine Top Ten Record Sellers were cover versions of TO EACH HIS OWN, by Eddy Howard, Tony Martin, Freddy Martin, The Ink Spots, and the Modernaires.
Jay Livingston & Ray Evans
COPYRIGHT 1946
Paramount Music Corp. (ASCAP)
International Copyright Secured
All Rights Reserved
RECORDING HISTORY
Eddy Howard, The 22 Golden Hits of Eddy Howard, Polygram Special Markets, The Good Record Music Co. 140020.
Freddy Martin, Best of The Big Band Era, BMG 75517 45934 2.
The Inkspots, Decca 23615.
The Modernaires, Columbia 37063 HCO 1884..
Tony Martin, The Best of Tony Martin, Mercury 314 532 875-2.
Rosemary Clooney, Many A Wonderful Moment, Bear Family Records, BCD 15 927 HK.
The Platters, The Very Best Of The Platters, Universal Music Special Markets, Heartland Music H604-01 / 314541993-2.
Michael Feinstein, 2002 Concord Records, Inc. # FCD-3101-2 Livingston & Evans Songbook.
Jon Weber, Plays The Songs of Livingston & Evans, MD-1111.
Marty Robbins, Love Songs: Marty Robbins, Sony/BMG Music Entertainment.
Kay Starr, Definitive Kay Starr on Capitol, Collector's Choice Music, CCM-276-2.
Jimmy Wakely and Linda Lee, Country Masters: Jimmy Wakely & Linda Lee, Digital Music Works Int'l.
Buddy Greco, The Great American Composers, Jay Livingston & Ray Evans, Columbia House 2C2 8651 / C21 8651.
Bobby Vinton, The Very Best of Bobby Vinton, Sony Music Special Products A2 52296.
Al Martino, Greatest Hits,
Willie Nelson, What A Wonderful World, CBS Records CK 44331.
Django Reinhardt, Paris and London, 1937-1948, JSP Records.
Joe Marine with the Fred Waring Orchestra, from the Fred Waring Radio Show.
Sonny Til & The Orioles, Sonny Til & The Orioles 50th Anniversary,
The Tymes, Cameo Parkway: The Best of The Tymes,
Don Byas, Savoy Jam Party: The Savoy Sessions,
And many others……….
FILM HISTORY
TO EACH HIS OWN, (Paramount Pictures, 1946 Olivia DeHaviland.)
L  I  S  T  E  N    T  O    M  O  R  E    V  E  R  S  I  O  N  S
Songs Will Play In New Window/Tab. Simply Close That Window/Tab When Done Listening To Return To This Page