Livingston & Evans: The Last Of The Great Songwriters From The Golden-Age Of Hollywood
After 7 years of minimal success living and working in New York City as half of the Livingston & Evans songwriting team, Jay Livingston and his songwriting partner Ray Evans were given the opportunity to try their luck in Hollywood.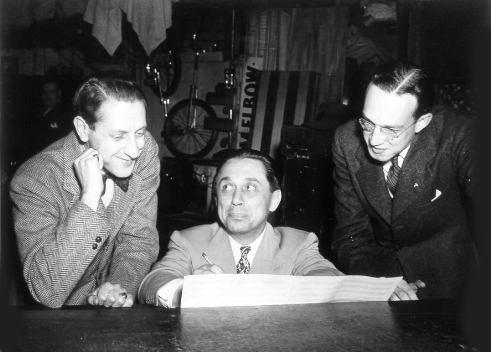 L&E's only New York success during this period came from a song written on assignment in 1941 on behalf of the Olsen & Johnson Broadway Show, Hellzapoppin. Hear the song, G'Bye Now, below. One version is the original recording by Horace Heidt & His Orchestra. The second version is a re-mix of the Horace Heidt recording as recorded recently by Swing Republic.
Horace Heidt & His Orchestra

Swing Republic
Stay tuned to find out how Jay Livingston & Ray Evans made their way to Hollywood to become "The Last Of The Great Songwriters From The Golden-Age of Hollywood."