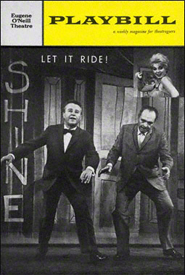 This song from the Let It Ride! Broadway Soundtrack works beautifully as an alternative to the usual Happy Birthday To You song by just changing the name at the end to whatever they desire. Here's your chance to start a NEW birthday tradition. Give it a listen.
The Back Story
John Cecil Holm and George Abbott's 1935 comic play Three Men On A Horse, about a mild-mannered greeting-card writer with an uncanny ability to pick winners at the racetrack, was first adapted into a musical in 1941 when it was renamed Banjo Eyes and became a successful vehicle for Eddie Cantor. Twenty years later with Let It Ride!, an entirely new attempt was made to tell the story as a musical, this time with a number of principals from outside the theater. Let It Ride! opened in New York at the Eugene O'Neill Theater on October 12, 1961, and played 68 performances. The original production starred George Gobel, Sam Levene, Barbara Nichols, and Paula Stewart.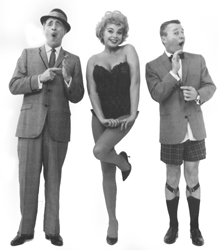 Songwriters Jay Livingston and Ray Evans had multiple Academy Awards on their shelves but had seen their opportunities in Hollywood diminish as fewer movie musicals were made and score composers muscled in on the title song business. Comedian George Gobel, in the starring role, lacked stage experience but, with a long history on radio and television (The George Gobel Show, 1954-1960), was a familiar name to audiences. Also given a name above the title in equal size was Sam Levene, stage veteran of Guys and Dolls. The cast album is full of humorous songs consistent with the farcical nature of the plot.
httpv://www.youtube.com/watch?v=D6BUKZpaAKA